27 November 2018 — Announcement
Arsenale Docks revealed as venue for Charlotte Prodger's exhibition during Venice Biennale 2019
The Scotland + Venice partnership is delighted to reveal details of the venue for Charlotte Prodger's solo presentation of new work during the 58th International Art Exhibition – La Biennale di Venezia, which runs from 11 May to 24 November 2019.
Prodger's major new single channel film commission will be presented at Arsenale Docks, S. Pietro di Castello, 40, 30122.
An ex-industrial space dating back to the 1930s, the Arsenale Docks forms part of the historic and recently restored Cucchini Shipyard in Castello, overlooking the Canal di Sant'Anna. It is conveniently located at the top of via Garibaldi, between both the Arsenale and Giardini Biennale locations. Arsenale Docks has ground level access throughout the exhibition spaces and is accessible via ground level from both the Giardini and S. Pietro vaporetto stops.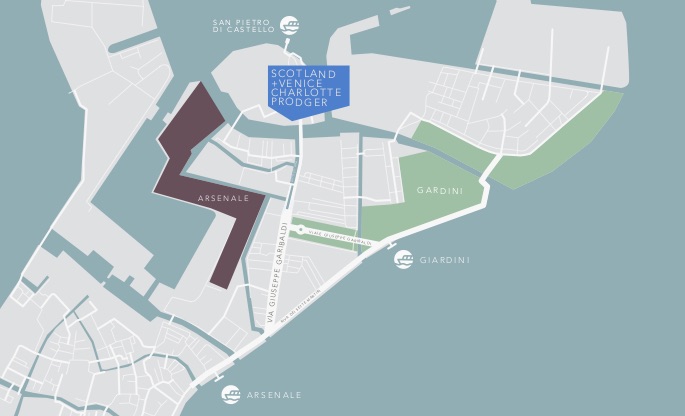 Currently shortlisted for the 2018 Turner Prize, Glasgow-based Prodger uses moving image, sculpture, writing and performance to raise issues surrounding queer identity, landscape, language, technology and time. Her work BRIDGIT, a complex meditation on the relationship between place, time and identity, is currently on view at Tate Britain in the 2018 Turner Prize exhibition. Prodger won the Margaret Tait Award in 2014, was shortlisted for the Jarman Award in 2017 and, in the same year, was awarded a Paul Hamlyn Award.
Commissioned and curated by Linsey Young with Cove Park, the new work for Venice is being developed over a series of research and production residencies at Cove Park, one of Scotland's foremost residency centres, and is supported by the artist's production consultant Mason Leaver-Yap and Dutch arts organisation If I Can't Dance, I Don't Want to Be Part of Your Revolution (IICD).
The Scotland + Venice partnership is also pleased to announce that graphic designer Roland Brauchli has been selected to design the identity for Scotland + Venice 2019. Brauchli is renowned for his collaborations with artists, curators and designers to develop books, and is especially celebrated for his publications on artists' works.
Linsey Young, Curator of the Scotland + Venice exhibition, commented: "The material qualities and scale of this industrial venue allow for the development of an exhibition that will provide an expanded environment in which to explore Prodger's practice, while the relationship between the working boatyards of the area and its proximity to water reflect the landscapes that Prodger explores within her work. Additionally, we are thrilled that Roland Brauchli will join the team, working closely with Charlotte on the identity of the project and its accompanying publication."
On behalf of the Scotland + Venice Partnership, Amanda Catto, Head of Visual Arts at Creative Scotland, said: "The Arsenale Docks offers a distinctive location for presenting Charlotte's work and the venue provides the project with exceptional exposure. We are very excited by Charlotte's ideas for the exhibition and also delighted that we have secured a space that offers good access for visitors. We look forward to providing a warm welcome to all throughout the seven months of the Biennale."
Alexia Holt, Associate Director and Visual Arts Producer at Cove Park, commented: "The venue resonates wonderfully with Cove Park's own location on Scotland's west coast, sharing a rich maritime, fishing and naval context with Argyll and Bute and the Firth of Clyde, and we look forward to working with Charlotte, Linsey and Roland on the development of this presentation."
Roland Brauchli said: "I love Charlotte Prodger's work, the directness and honesty of her films empower me. I feel extremely lucky to be part of the team designing the Scotland + Venice presentation."
The 58th International Art Exhibition – La Biennale di Venezia runs from 11 May to 24 November 2019.
Arsenale Docks, S. Pietro di Castello, 40, 30122
Scotland + Venice opening times: 11 May to 24 November 2019, Tuesday – Sunday, 10am – 6pm, free entry
Vaporetto stops: Giardini, Arsenale or S. Pietro di Castello
Media Contact: Caterina Berardi, Pickles PR | E: caterina@picklespr.com | T: +44 (0) 7907487074
Notes to Editors
Scotland and Venice is a partnership between Creative Scotland, the National Galleries of Scotland and British Council Scotland. Founded in 2003, Scotland + Venice provides artists based in Scotland with a valuable platform to showcase their work on the international stage at one of the world's most prestigious visual arts festivals, the Venice Biennale. Charlotte Prodger's presentation for the 2019 Venice Biennale is commissioned and curated by Linsey Young with Cove Park. For further information and to sign up for updates, please visit: www.scotlandandvenice.com / @scotlandvenice / #scotlandvenice / www.facebook.com/scotlandandvenice
Charlotte Prodger was born in Bournemouth, UK in 1974. She studied at Goldsmiths, London and The Glasgow School of Art and lives and works in Glasgow. Currently nominated for the 2018 Turner Prize, on view at Tate Britain, Prodger received the 2014 Margaret Tait Award and 2017 Paul Hamlyn Award. Selected solo exhibitions include: Turner Prize, Tate Britain, London (2018); BRIDGIT/Stoneymollan Trail, Bergen Kunsthall; Subtotal, SculptureCenter, New York (2017); BRIDGIT, Hollybush Gardens, London; Charlotte Prodger, Kunstverein Düsseldorf (2016); 8004–8019, Spike Island, Bristol; Stoneymollan Trail, Temple Bar, Dublin (2015); Nephatiti, Glasgow International Director's Programme; Markets (with The Block), Chelsea Space, London (2014); Percussion Biface 1-13, Studio Voltaire, London; Colon Hyphen Asterix, Intermedia CCA, Glasgow (2012); Handclap/Punchhole, Kendall Koppe, Glasgow (2011). Selected group exhibitions include: Always Different, Always the Same: An Essay on Art and Systems, Bunder Kunstmuseum, Chur; ORGASMIC STREAMING ORGANIC GARDENING ELECTROCULTURE, Chelsea Space, London (2018); British Art Show 8 (2016); Weight of Data, Tate Britain, London; An Interior that Remains an Exterior, Künstlerhaus Graz (2015); Frozen Lakes, Artists Space, New York (2014).
Linsey Young is a curator based in London and Glasgow. Having previously held curatorial positions at Inverleith House, Edinburgh, and The Scottish National Gallery of Modern Art, Edinburgh, Young is currently Curator Contemporary British Art at Tate, where she is lead curator of the Turner Prize, responsible for overseeing the project each time it is held in London. In addition, while at Tate she has co-curated Rachel Whiteread's mid-career retrospective and curated Pablo Bronstein and Anthea Hamilton's Duveen commissions. In 2013, Young founded the independent, not-for-profit project YOUNG TEAM through which she has curated exhibitions and developed publications with artists such as: Sue Tompkins, Neal Jones, Jonathan Meese and Steven Campbell. Working with the artist Charlotte Prodger, Young is Commissioner and Curator of Scotland + Venice 2019.
Located on the west coast of Scotland in Argyll and Bute, Cove Park runs an annual programme of creative development residencies for national and international artists, working in all art forms and at all stages in their careers. Cove Park's Visual Arts programme offers both residencies and commissions, produced and curated by Alexia Holt, enabling artists to develop new work in the context of an outstanding 50-acre rural site overlooking Loch Long. The organisation's award-winning Artists Centre, a purpose-built space for artists and visitors, opened in 2016 and made possible the development of Cove Park's innovative creative learning programme led by current and former residents. Cove Park was founded in 1999 by Eileen and Peter Jacobs and will celebrate 20 years of its residency programme in 2020. For further information please visit: http://covepark.org, and follow @CovePark and www.facebook.com/Cove-Park
Roland Brauchli is a well-known graphic designer working across the fields of print, design and art. He collaborates with artists, writers, curators and publishers on publications and exhibitions through his work, which focuses on the printed page. Recent publications include Modus (Onomatopee), Rose Wylie – Quack Quack (Serpentine/König Books), The Kindred of the Kibbo Kift – Intellectual Barbarians (MUMA Melbourne) and Francis Upritchard – Jealous Saboteurs (MUMA Melbourne). For further information please visit: www.rolandbrauchli.com.
Charlotte Prodger's work in Venice is also supported by the artist's production consultant Mason Leaver-Yap and Dutch arts organisation If I Can't Dance, I Don't Want To Be Part of Your Revolution.