7 April 2022 — Announcement
The Countdown to Venice Begins
Following the exciting announcement of Alberta Whittle's deep dive (pause) uncoiling memory Collateral Event for the 59th International Art Exhibition – La Biennale di Venezia, the road to Venice has officially begun as April gets under way.
As Scotland + Venice prepares to embark on a journey of discovery and discussion for Biennale Art 2022, we're opening the month with the first in a series of insightful newsletters designed to invite you into the world we'll be collectively sharing with Alberta over the next eight months.
Will you be coming to Venice? Tell us when you'll be around!
Email us at info@scotlandandvenice.com to let us know
---
The Scotland + Venice Professional Development Programme Launches with 19 talented individuals from Scotland and South Africa
It's no secret that the art world needs to urgently address accessibility and diversity barriers for those embarking on a career in contemporary art. As an increased focus on early career support and development is domestically and globally shared, Scotland + Venice are delighted to announce the Professional Development Programme participants who will be joining us for 2022.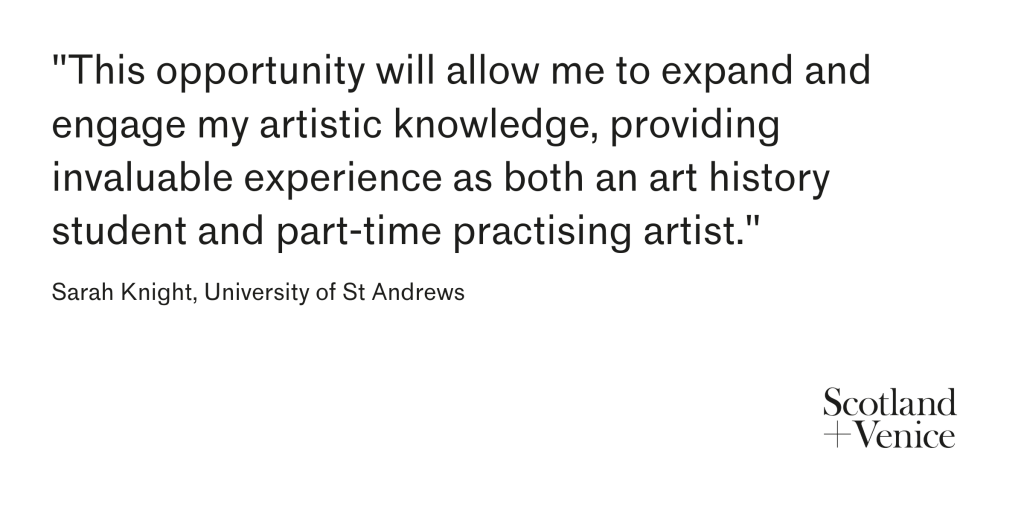 Administered by, and with funding from British Council Scotland, the programme supports a talented cohort of Exhibition Invigilators who will be part of Biennale Arte 2022. Participants have recently enjoyed spending time with Alberta and learning about her practice and the development and production of the work, and are supported and funded by the following institutions and organisations:
Aqsa Arif, supported by British Council & Scotland + Venice
Angus Pattison, City of Glasgow College
Karyn Priestley, City of Glasgow College
Dana Leslie, Duncan of Jordanstone College of Art & Design
Chloe McHardy, Edinburgh College supported by a-n
Kirsten Grant, Edinburgh College
Carys Reynolds, Edinburgh College of Art
Ellis Ludlow, Edinburgh College of Art
Phoebe Heins, Edinburgh College of Art
Ruby Allen, Glasgow School of Art
Julia Johnstone, Glasgow School of Art supported by Stichting West Coast Foundation
Leya Mckay, Gray's School of Art
Rhona McGuire, Gray's School of Art
Althea Young, Royal Conservatoire of Scotland
Joanne Lee, supported by Scottish Contemporary Art Network (SCAN)
Shalom Mushwana, University of Johannesburg
Eilidh Gilmour, University of St Andrews
Sarah Knight, University of St Andrews
Kate Wilcox, University of St Andrews
Meet the Professional Development Partners & Participants
---
Reflecting on the past to help shape the future
As part of the journey to Alberta Whittle's deep dive (pause) uncoiling memory we have also been reflecting on past art and architecture presentations that have represented Scotland at the Venice Biennale over almost 20 years.
In that time, Scotland + Venice and our many partners and collaborators have gathered a wealth of material that could form an archive and be of interest to researchers, teachers, students and practitioners.  We are currently undertaking a project to identify and scope out the range and quantity of material that our collaborators and audiences may hold, as well as identify interest in accessing and using a Scotland + Venice archive resource.
Whatever your interest in or role may have been in Scotland + Venice we would love you to complete a short feedback survey and tell us about your thoughts on the archive, potential use and any relevant material you may hold.
We kindly ask you to respond to the survey at your earliest convenience and no later than 14.04.2022.
If you have any questions or would like to talk to us about the archive, please contact Mateusz Sapija at mateusz.sapija@ed.ac.uk.
---
Can art save the planet?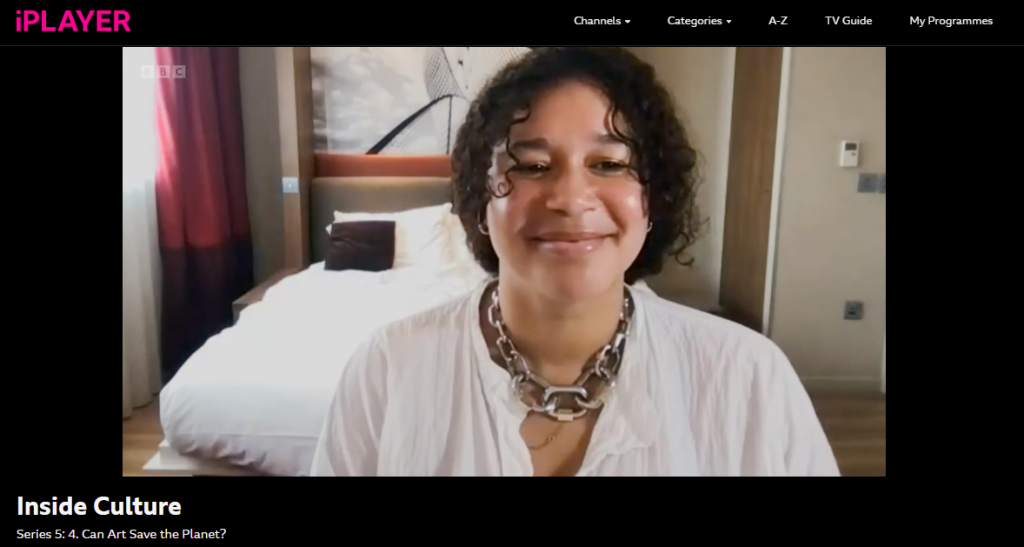 We were delighted to see Alberta Whittle interviewed on BBC 2's Inside Culture episode on art and climate change. It's a pressing issue that is impacting communities across Scotland and Venice as rising sea levels and temperatures disrupt the delicate balance of nature.
Alberta's work aptly captures the realities of climate change and the incessant demands colonialism and capitalism places on the world's limited resources. With global communities of colour and women being impacted the most by climate change, her body of work for Biennale Arte 2022 will touch on many of these important issues. If you're yet to catch the episode there's good news as the episode is live on BBC iPlayer for the next eleven months.
Watch 'Can Art Save the World?' on BBC iPlayer
---
Stay in touch
As the road to Venice continues, don't forget to sign-up to the Scotland + Venice newsletter to be the first to know what is happening and when.