Scotland + Venice 2022 for the 59th International Art Exhibition
23 April – 27 November 2022, Docks Cantieri Cucchini
Alberta Whittle
deep dive (pause) uncoiling memory
Lagareh – The Last Born runs for 40 minutes
Screening Times: 10.10, 11.00, 11.50, 12.40, 13.30, 14.20, 15.10, 16.00, 16.50
Please be aware the film talks openly about racism, violence and grief.
——
Lagareh – The Last Born ha una durata di 40 minuti
Orari di proiezione: 10.10, 11.00, 11.50, 12.40, 13.30, 14.20, 15.10, 16.00, 16.50
Si prega di tenere presente che il film tratta apertamente di razzismo, violenza e dolore.
---
Taking time to imagine and reimagine is at the core of Alberta Whittle's work, and central to her new presentation deep dive (pause) uncoiling memory. In an immersive environment, the artist encourages us to slow down, in order that we may collectively consider the historic legacies and contemporary expressions of racism, colonialism and migration, and begin to think outside of these damaging frameworks.
Across two rooms in a former boatyard, Alberta presents new works in tapestry, film and sculpture, connected through a shared vocabulary of motifs and ideas. Produced in collaboration with a network of artists, choreographers and performers, whom Alberta terms her accomplices, the installation reveals layers of meaning through the collaging of imagery, materials and form and continues the artist's motivation to manifest self-compassion and collective care as key methods in battling anti-blackness.
Entanglement is more than blood, a new large-scale tapestry is imbued with Alberta's rich symbolism of water, gateways, hands, snakes and shells. Acting as a portal, it continues the artist's visual exploration into notions of birth and death; transformation and immortality; health and healing. Situated next to a portrait of the artist, aged 7, by her mother Janice Whittle the works intimately remind us of the significance of family, kinship and ancestral histories that echo throughout the presentation.
Imagery found in the tapestry echoes throughout Alberta's ambitious new film Lagerah – The Last Born, a workanchored around theories of abolition, rebellion, ancestral knowledge and love. Shot on location in Scotland, London and Barbados and featuring footage from West Africa as well as from Venice, the film melds a collection of scenes that give focus to the strength of contemporary Black womxn, whose individual acts of resistance are bound together through the artist's conceptual storytelling. Alberta situates Black love in proximity with historical sites of trauma, re-inscribed with rage, hope and exhaustion. Gestures, rituals and moments of intimacy are poignantly underpinned by a deep reflection on grief, loss and mourning, a resolute reminder of the trauma inflicted upon the Black body and of white privilege and power.
Both the film and tapestry are framed within gate-like structures The Choir is waiting at the threshold and (pause), which divide and contain the spaces, drawing associations with enclosures, barriers or thresholds. Fabricated in steel the deep green colours of the metalwork are offset by stained glass panels in rippling purple and pink tones that nod to the colours of the glass lamps that shine across Venice. It is within these sculptural forms Alberta invites us to gather, to pause, reflect and remember.
Echoing the artist's ethos of care and healing, visitors to the space will be offered items of comfort such as handmade blankets and herbal teas created by family, friends and collaborators and are provided with custom made seating both inside and out in which as their title refers to take a great to rest. With students and early career practitioners from across Scotland and South Africa invigilating the exhibition and providing a warm welcome to all that come to the experience of the exhibition.
At a time in history when it is not enough for the world to merely acknowledge global injustice, the exhibition invites us to unravel contested and difficult histories and creates an open space for conversation, hope, healing, and reconciliation. Building on themes established in previous work, this new exhibition demonstrates the artist's unmatched ability to tell difficult, and often painful, stories with empathy, vulnerability, and an abundance of love, something the artist is intentional about
"The luxury of amnesia is a really potent idea in my practice. For so long there was this complete reluctance and avoidance in discussing Scotland's role within slavery and within plantation economies. There's this sense that racism and police brutality is an English problem or an American problem, something that isn't happening on these shores. There are ways in which the luxury of amnesia has been nurtured by Governments, by the stories we tell ourselves, by ways we find to avoid our own complicity with our own privilege – and it's interesting to think about the conversations that are still missing.
There's a numbness that can happen when you just see names and that endless footage of George Floyd being murdered. I wanted to find a way to think about these ideas without re-traumatising myself or re-traumatising the audience, and I think there are other ways to do that – and that led me to really return to love. I wanted there to be that place for love in the work because it ends at such a place of sorrow when I think about the endless list of names that are growing."- Alberta Whittle
A key aim of the Scotland+Venice partnership is to enable audiences in Scotland to engage with the work being shown in Venice. In partnership with LUX Scotland, from late 2022, the film Lagareh – The Last Born will tour art and screening venues across Scotland. Forma, London will lead on a subsequent international tour of the film. Plans are also being made for the artist's presentation to feature at the heart of a major solo show of her work at the Scottish National Gallery of Modern Art in 2023. Offering a compelling insight into the artist's career to date, it will include works in a range of media alongside those shown in Venice giving the audience the opportunity to experience first-hand the ambition and breadth of Alberta's practice.
The selection of the artist was made following an open, competitive process. Members of the selection panel were:
Amanda Catto, Head of Visual Arts at Creative Scotland and Chair of the Scotland + Venice partnership, Simon Groom, (Scottish National Gallery of Modern Art), Norah Campbell (British Council), Fatos Üstek (Liverpool Biennial), Zoé Whitley, (Chisenhale Gallery).
Alberta Whittle b. 1980 Bridgetown, Barbados. She lives and works in Glasgow.
Selected solo exhibitions and presentations include: The British Art Show 9 (2021-22), Jupiter Artland, Edinburgh (2021), Liverpool Biennale (2021), Art Night London (2021), Glasgow International (2021), Grand Union, Birmingham (2020) and Dundee Contemporary Arts, Dundee (2019). Selected group exhibitions include: Life Between Islands Caribbean: British Art 1950s to Now, Tate Britain (2021-22), and those held at Kunstal Trondheim, Norway (2021), Gothenburg Biennale (2021), The Lisson Gallery, London (2021), MIMA Middlesborough (2021), Remai Modern, Saskatoon, Canada (2021), Eastside Projects, Birmingham (2020), Edinburgh Printmakers, Edinburgh (2019) and the 13th Havana Biennial, Cuba (2019).
Forthcoming exhibitions include group shows at Fotografiska, New York; Hessel Museum of Art, New York, Moderna Museet Malmö, Sweden, La Casa Encendida, Madrid, Spain and a solo exhibition as part of British Art Show 9, Plymouth. This full presentation will return to Scotland and be exhibited with other works by Alberta at the Scottish National Gallery of Modern Art, Edinburgh, opening in spring 2023.
Alberta was awarded a Turner Bursary, the Frieze Artist Award and a Henry Moore Foundation Artist Award in 2020.
Exhibition Dates
April 23 2022 to November 27 2022
Location
Docks Cantieri Cucchini
S. Pietro di Castello, 40, 30122
The Scotland venue is situated between the Giardini and Arsenale, the two main sites of the Biennale.
View a map of the location of the venue 
Alberta Whittle's creative practice is motivated by the desire to manifest self-compassion and collective care as key methods in battling anti-blackness. She choreographs interactive installations, using film, sculpture and performance as site-specific artworks in public and private spaces. Read more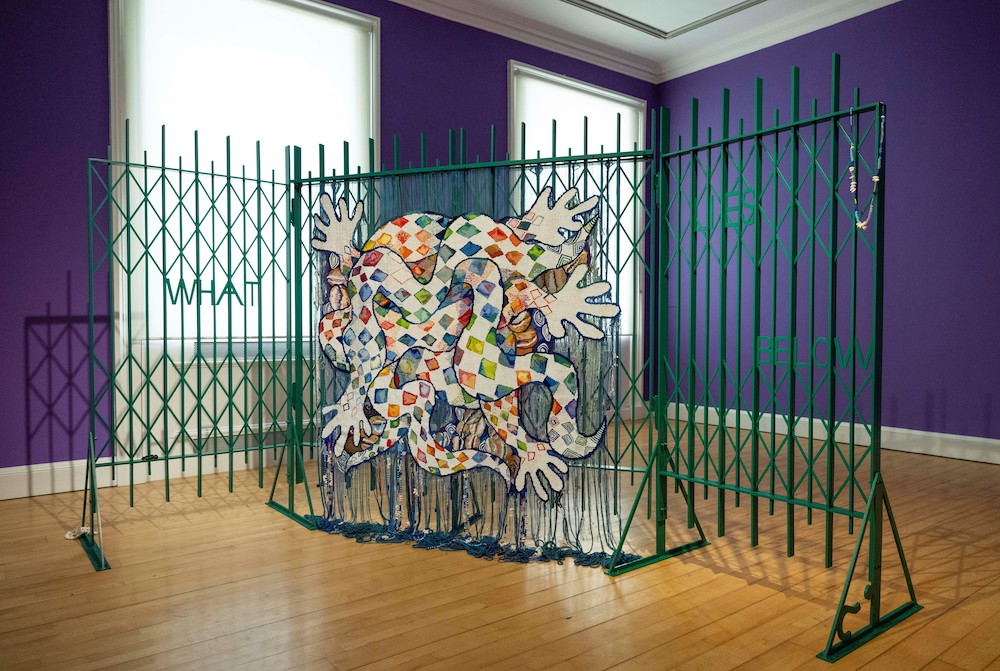 The National Galleries of Scotland has announced the acquisition of two major works by the celebrated Barbadian-Scottish artist, Alberta Whittle. The artist's extraordinary installation with tapestry, Entanglement is more than blood (2022), and thought-provoking film, Lagareh – The Last Born (2022), will form an integral part of Alberta Whittle: create dangerously. Read more