8 April 2022 — Announcement
Three questions with Art Night
Collaboration is one of the many joys that Alberta Whittle encompasses in her practice. Whether it be fellow collaborators in her artwork or organisations committed to decolonising the arts and widening participation across Scotland, the UK, and the world; for her, it is a powerful tool for creation.
As the countdown to Venice continues, we're thrilled to be living this value through the partners that support and strengthen Scotland + Venice. To celebrate the impact that collaboration can have, our new 'Three questions with…' series provides a digital moment to get to know our project partners for 2022.
First up in the series is Art Night's Artistic Director, Helen Nisbet who has worked with Alberta for over two years. As production collaborators for Lagareh – a new film opening to the public as part of deep dive (pause) uncoiling memory  by Alberta Whittle on 23 April 2022 at Biennale Arte 2022 – we hope this conversation brings to life some of the magic of this new body of work ahead of the opening in Venice.
What are you most excited about for deep dive (pause) uncoiling memory?
Alberta's work sparks with love and sensitivity. We can't wait to see this new body of work next to the shimmering canals in Venice – the essential relationship to water, the interconnected waterways and ecologies and how these connections can reveal systems of resistance or space for conversation and release. We're also excited about elements of the work touring Scotland after the presentation in Venice and the impact the work and its ideas will have on younger people for years to come.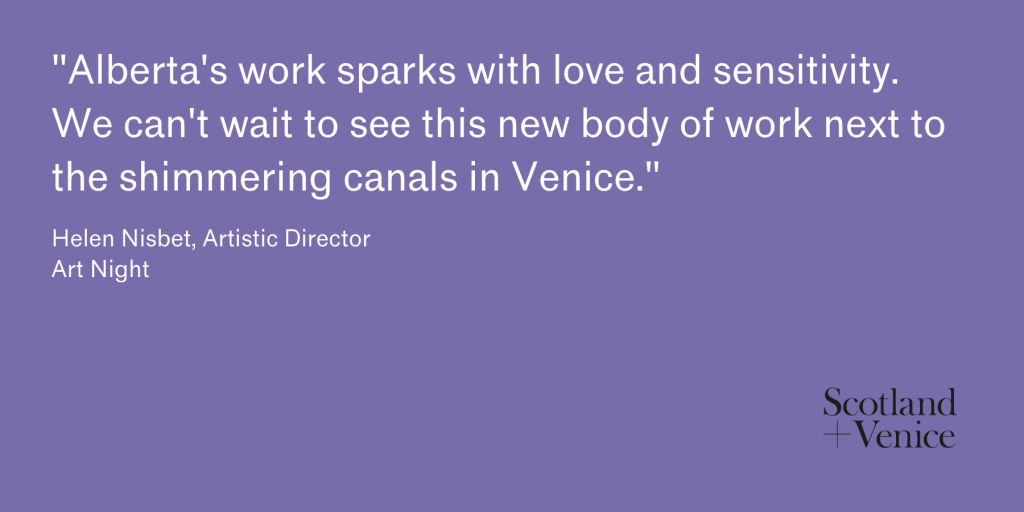 How has working with Alberta impacted you?
We've learned how to listen to and leave voice notes! But more importantly, working with Alberta has been transformative and inspiring – her ability to draw people in, bring warmth, intelligence and tremendous empathy, even when confronting (and refusing to look away from) painful subjects. I'm more thoughtful, less numb and more committed than ever to doing things better after working with Alberta over the past two+ years.
Do you make intentional time to pause?
I'm trying to.
Spring makes it easier because it's almost impossible to walk past flowers blooming and the little green tips of buds without spending a little bit of time with them.
---
Art Night is a free contemporary art festival which transforms locations across the UK and invites artists to make  ambitious work for non-traditional public spaces. Art Night's 2021 programme featured a newly commissioned film Holding the Line, and performance by Alberta which has played an important role in the development and manifestation of the new work for Scotland + Venice.
Art Night have supported the creative evolution and production of the new work through Alberta's research and development. With further development through providing in-kind access to footage from the Artist's Art Night commission to be used in the new film Lagareh and a text by Ama Josephine Budge which will feature on the artist's new website.