15 April 2022 — Announcement
Three questions with Forma
With Alberta Whitte's deep dive (pause) uncoiling memory opening in Venice next week, we're taking a moment to pause to embrace the community that helps brings the spirit of collaboration to life.
This week's 'Three questions with…' interview sees us chat with Chris Rawcliffe, Artistic Director at Forma. Having worked closely with Alberta over the last two years, Chris's reflections on Lagareh –  a new film opening to the public as part of deep dive (pause) uncoiling memory on 23 April 2022 at Biennale Arte 2022 – and the collaborative nature of this year's Scotland + Venice commission tells an insightful story of working in creative partnership; something that is very close to Alberta's heart.
What are you most excited about for deep dive (pause) uncoiling memory?
As co-commissioners and producers of the film Lagareh, which is one of the key artworks presented in Alberta Whittle's exhibition deep dive (pause) uncoiling memory, the Forma team is excited to see the audience's reaction when they enter the space and watch the film. Working on this film has been a real labour of love for us over the past year. What I'm personally looking forward to is seeing how the film sits within the wider exhibition. Alberta and her partners at Glasgow Sculpture Studios created a series of large sculptures that are installed across the exhibition. One of these sculptures also includes a screen onto which Lagareh is projected. Through this act, Alberta has turned the film into a remarkable installation.
How has working with Alberta impacted you?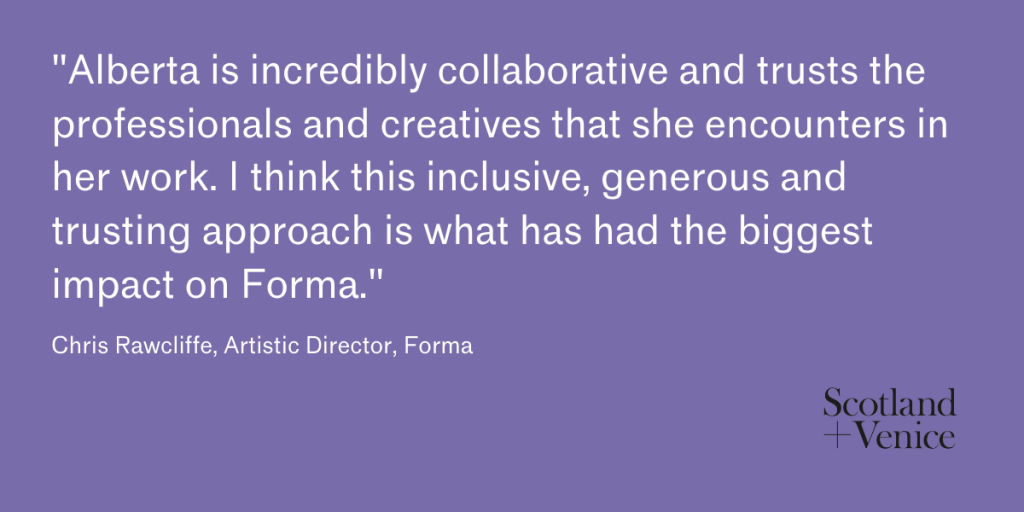 Forma started working with Alberta in 2020 on a film called RESET which was co-commissioned with Frieze London as part of the Frieze Artist Award. We went straight from RESET into the production of Lagareh in 2021, so the past two and half years of Forma's development have really been informed by this relationship.
Alberta is incredibly collaborative and trusts the professionals and creatives that she encounters in her work. I think this inclusive, generous and trusting approach is what has had the biggest impact on Forma. We are evolving into a more open, inviting, collaborative and trusting organisation and I truly believe our connection to Alberta and her artistic, political and spiritual beliefs is making us a more attractive organisation to artists from all backgrounds.
Do you make intentional time to pause?
Unfortunately not at the moment!
Once the show opens the entire Forma team will be in Venice together to see the exhibition and make sure we enjoy the moment. Forma have teamed up with Jupiter Artland, an incredible arts organisation and sculpture park outside Edinburgh, to host a celebration for Alberta in Venice. Not quite a pause, but hopefully something to remember.
---
Forma is a contemporary arts organisation that champions ideas and artists who address the social and political questions of our times. Through a discursive process, they nurture artists' creative vision and grow their ambition in order to develop collaborative projects that are career defining and lead to new major opportunities around the world. They pride ourselves in being an organisation that artists want to work with.
They offer commissioning, fundraising and production expertise, and as a non-gallery-based organisation they present projects in partnership with cultural institutions across the UK and internationally.  Forma is where ideas become art.  In 2021 Forma launched FormaHQ, a new cultural hub for South London which includes artists studios, an events space as well as a new public garden designed by Gabriel Kuri, Nigell Dunnett and Sanchez Benton Architects. Forma Arts is a National Portfolio Organisation, supported by the Arts Council England