14 June 2022 — Writing
Three questions with LUX Scotland
As summer takes foot across Scotland and Venice, and memories of spring fade into our individual and collective memory, we're back with the next instalment of our 'Three questions with…' series.
In conversation with Kitty Anderson, Director at LUX Scotland, we explore how working with Alberta and the process of co-creation cements a powerful thread of togetherness in deep dive (pause) uncoiling memory. Providing a glimpse of what to expect when the screening of the poignant and critically acclaimed film, Lagareh – the Last Born comes to Scotland, here's three questions with LUX Scotland.
What are you most excited about for deep dive (pause) uncoiling memory?
I'm really excited about sharing Alberta's work with audiences across Scotland when LUX Scotland tour the work later this year. Alberta's work is increasingly well recognised internationally, but there are still a lot of people that haven't had a chance to see, or engage with it, within Scotland, where she lives and works.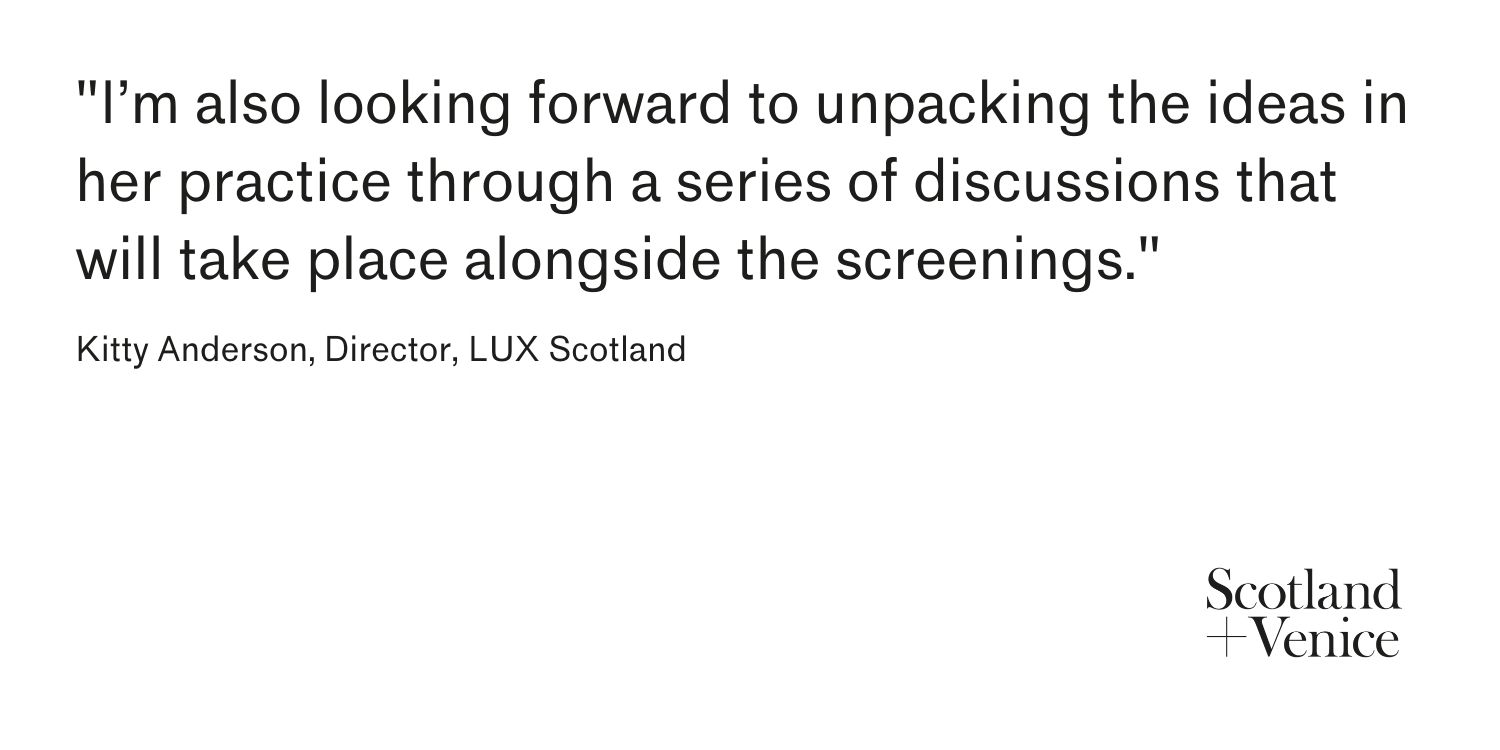 I'm also looking forward to unpacking the ideas in her practice through a series of discussions that will take place alongside the screenings. We'll be working with a range of partners to present the work, in different locations across Scotland, bringing in a number of speakers to discuss the themes that emerge through it.
How has working with Alberta impacted you?
We've had the pleasure of working with Alberta since she was awarded the Margaret Tait Award in 2018. We have followed her career closely since then and been impacted by her incredible generosity, and her amazing capacity for collaboration. I've also really appreciated her ability to stop and think, something I definitely struggle to do!
Do you make intentional time to pause?
Our team consists of a group of swimmers, so I think it's fair to say that we all make intentional time to pause through being in, or near, water. This seems particularly appropriate given the title of Alberta's work, and its presentation in Venice.
---
LUX Scotland is a non-profit agency dedicated to supporting, developing and promoting artists' moving image practices in Scotland. As part of Alberta Whittle's commission, LUX Scotland are principal partners for the screening tour of 'Lagareh – the Last Born' across arts and culture venues in Scotland.
To be the first to know when the screening tour launches be sure to subscribe to the Scotland + Venice newsletter before.