15 July 2022 — Writing
Reflections on deep dive (pause) uncoiling memory
Amanda Catto, Head of Visual Arts at Creative Scotland and Chair of the Scotland + Venice partnership, looks back on her time experiencing this year's presentation by Alberta Whittle at Scotland + Venice
Just over 3 months ago I was at La Biennale in Venice supporting the launch of Alberta Whittle's new commission – the remarkable exhibition deep dive (pause) uncoiling memory.
deep dive (pause) uncoiling memory is an installation featuring tapestry, film and sculpture. It is a moving and affecting show that invites the viewer to acknowledge and reject the systemic racism that exists in Scotland and the UK, and to imagine and make possible new and alternative futures.
The Scotland + Venice partnership is deeply honoured to be presenting this work on the world stage and to be standing with Alberta in asking important questions about anti-blackness, in the past and present day.
Collaboration is at the heart of Alberta's practice and this exhibition would not have been possible without the generosity and expertise of her many friends and accomplices. From the powerful women of colour we meet in the film, to the producers, sound, captioning and post-production experts; from the expert weavers of the tapestry and fabricators of the gates to the excellent install team on the ground – each has contributed to making this a rich and multi-layered exhibition.
The opening week is always busy and we were delighted that almost 3,000 people made a point of joining us during that time.  It was an incredible experience to be with Alberta and the wider team, welcoming people to the show and hearing their responses first-hand.
Many visitors were visibly moved by the work and talked about how it spoke to them so powerfully of love, family and hope while also acknowledging the anger, outrage and hurt that it holds. People also told us how important it was for Scotland to be presenting Alberta's work in the context of the wider programme of La Biennale which saw a predominance of female artists, and where the voices of black women were so clearly amplified.
The exhibition is taking place at Docks Cantieri Cucchini in San Pietro, located close to the main sites of the Giardini and Arsenale. With its proximity to the canal it provides the perfect backdrop for Alberta's work and her ongoing exploration of water as the storyteller; a site for creativity; a place of loss and potential rebirth.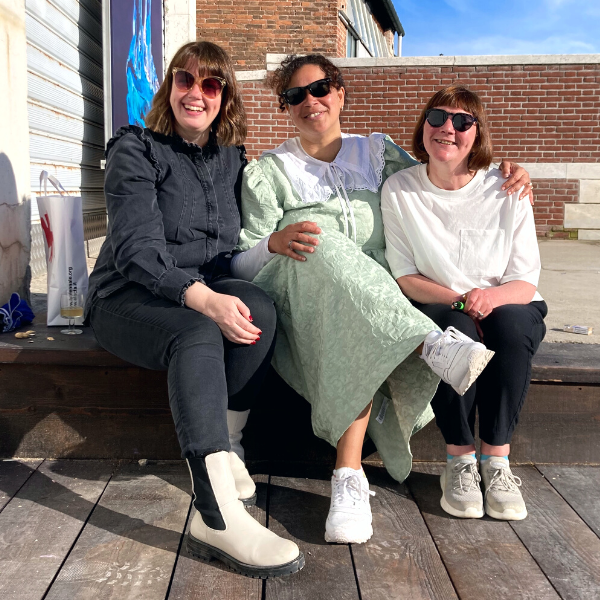 Pictured left to right: Lori Anderson, Development Manager, Alberta Whittle, Artist, and Amanda Catto, Chair of the Scotland + Venice partnership
It is also the perfect spot for visitors to spend some time away from the busy atmosphere of La Biennale, to regroup and reflect. This is a venue that Scotland + Venice used in 2019 to present Charlotte Prodger's outstanding show SaF05 and that we will use for the 2023 Architecture Biennale and, hopefully into the future.
We're committed to providing visitors with the very warmest of welcomes and ensuring that coming to Scotland + Venice is a memorable experience. This is as much about the artist's work and the staging of the show as it is about the staff on the ground and their ability to create a welcoming and engaging environment for all.
With support from a range of further and higher education providers and sector support bodies we have selected a team of 19 early career professionals to take part in our Professional Development Programme. Their primary roles are to care for Alberta's work and to look after visitors to the exhibition but during their time in Venice we hope they have the opportunity to experience the richness and diversity of the Biennale exhibitions and connect with peers from other exhibiting countries.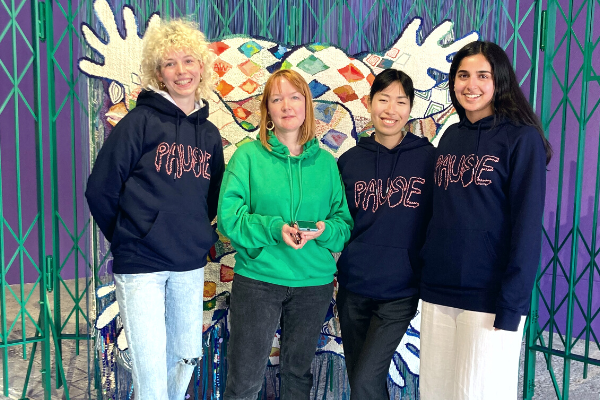 Pictured left to right: Leya McKay, PDP participant supported by Gray's School of Art Aberdeen, Louise Briggs, Production Manager, Joanne Lee, PDP participant supported by Scottish Contemporary Art Network, and Aqsa Arif, PDP participant supported by British Council Scotland and Scotland + Venice
Many of the people that have come through the programme have used the experience to further their career and we are excited to see and hear more from the current participants on their return. Since its founding in 2003, Scotland + Venice has supported more than 150 early career artists and curators to experience La Biennale and the international world of contemporary art first-hand. It's a programme that we are extremely proud of and that we are always looking to develop and expand. Importantly, in recent years the Scotland + Venice partnership has been committed to using the programme as an opportunity to diversify the workforce in Scotland. We've made some progress but there is more to do and we're very interested in working with partners who share that ambition.
Partnership is at the heart of the Scotland + Venice project and in the 20 year history of the project we have generated and sustained many excellent relationships across the fields of contemporary art and architecture. For this edition we've particularly enjoyed the support of our production partners on Alberta's project including – Forma, London who co-commissioned the film; Dovecot Studios, Edinburgh who collaborated on the tapestry; Glasgow Sculpture Studios who produced the gates; and Dal La Design who created the seating.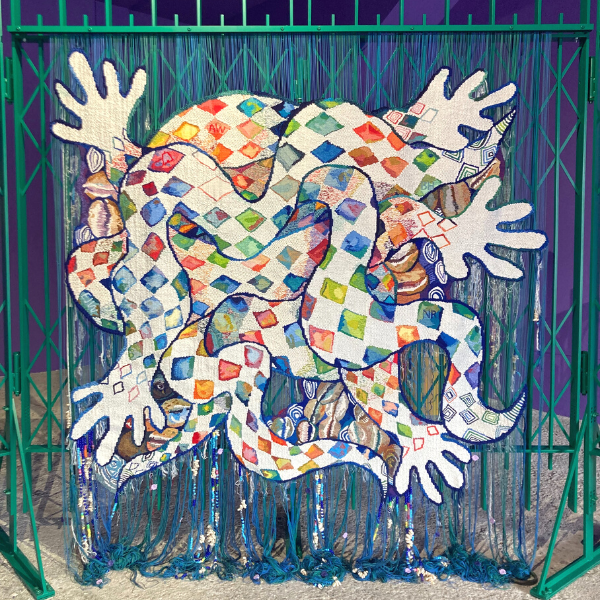 Pictured: 'Entanglement is more than blood' by Alberta Whittle, with production partner Dovecot Studios
We are also delighted to announce that V&A Dundee has recently joined with Creative Scotland, British Council Scotland, National Galleries of Scotland, Scottish Government and Architecture & Design Scotland to strengthen the core partnership that leads on the development of the project.
The exhibition will continue in Venice until 27th November but for people that won't be able to see it there, we are delighted to be working with LUX Scotland on a screening tour for the film Lagareh. This will run from September through to March next year and more locations will be announced shortly. In addition, we're very excited that the National Galleries of Scotland will be staging a major solo show with Alberta in spring next year which will explore her practice in depth, including the works from the Venice exhibition.
We aim to work in both an ethical and sustainable way in Venice, a city that has been badly impacted by the effects of mass tourism and that is at serious risk form the climate crisis. As we look to the future we will be formulating a climate action plan so that we can manage the impacts of our work appropriately. We're also looking to build stronger links with local workers and suppliers to ensure that the project is positively contributing to the local economy. This year we have established a number of partnerships including with a local caterer who has created a pop up café at the venue which is proving extremely popular. We hope to build on this into the future.
Scotland + Venice was established in 2003 to reflect the richness and diversity of contemporary art and architecture on the world stage.   It is focussed on supporting the development of new work and fostering international connections and exchange. Our aim is that in making the best possible exhibition experiences for artists, architects and audiences, we will position Scotland as a vibrant place for creative and cultural production. As we look ahead to the 20th anniversary of Scotland + Venice we're excited for the future and look forward to seeing this major, international flagship continue to enable the very best work from Scotland to reach audiences from across the world.